Notarial service fees to increase from 1 January 2017
The Government announced an increase to Notarial service fees in the 2016-17 Federal Budget, effective 1 January 2017.
Notarial service fees have not increased since 1 July 2000.
From 2018 onwards, notarial service fees will increase annually in line with the Consumer Price Index published by the Australian Bureau of Statistics.
Please see here for the new fees.
Australian visa scams
The Department of Immigration and Border Protection warns people to be very cautious regarding claims that Australian visas are allegedly for sale. These claims are not true. Australian visas are not for sale. Visas can only be obtained through official channels. Read more...
60 years of Australia's diplomatic presence in Malaysia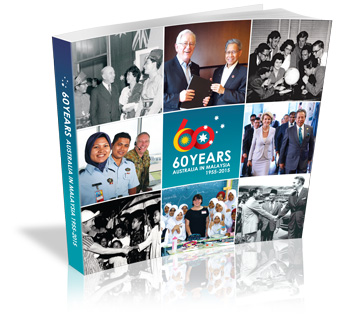 The Australian High Commission's special publication commemorating 60 years of Australia's diplomatic presence in Malaysia is available online. The commemorative book was launched by the Prime Ministers of Australia and Malaysia on 22 November 2015. It captures the long-standing and substantial cooperation between our two countries across many fields including defence, education, business, the arts and sports. It includes a number of personal stories of Malaysians and Australians who have made key contributions to building our close ties.
Job Vacancies
Internship - Political & Economic Section: Applications are invited for internship positions with the Political and Economic Section within the Australian High Commission, Kuala Lumpur. The positions are for a maximum three month period. Each internship would be undertaken in the period April to December 2017. Read More...
Visits and Travel Coordinator – Public Diplomacy and Policy Support Section: The Australian High Commission in Kuala Lumpur invites applications for the position of Visits and Travel Coordinator in the Public Diplomacy and Policy Support Section for commencement as soon as possible. Read more...
Human Resources Assistant – Administration Section: The Australian High Commission in Kuala Lumpur invites applications for the position of Human Resources Assistant in the Administration Section for a commencement as soonest as possible. The closing date for this position has been extended till 22 January 2017. Read more...

2017 Endeavour Scholarships and Fellowships
19 December 2016: Five Malaysian researchers are headed to Australia next year as winners of the prestigious Australia Awards Endeavour Scholarships and Fellowships, funded by the Australian Government. Read more...
Anti-Corruption Day
9 December 2016: Today marks International Anti-Corruption Day, a day dedicated to promoting efforts to stop corruption and its damaging effects. Read more...
Recognising Our Volunteers On International Volunteer Day
5 December 2016: On International Volunteer Day we thank all our volunteers for their contribution to delivering Australia's aid program. Read more...
New Colombo Plan Scholars Announced
28 November 2016: The New Colombo Plan (NCP) will continue to expland in 2017 with 105 scholarships for Australia's best and brightest undergraduate students to live, study and intern in the Indo-Pacific region. Read more...
International Day for the Elimination of Violence Against Women
25 November 2016: Today marks the International Day for the Elimination of Violence against Women. Ending violence against women and promoting gender equality are priorities of the Australian Government and a key part of our foreign policy and overseas aid program, especially in the Pacific. Read more...
Innovative New Leadership Program For Social Entrepreneurs
18 November 2016: Minister for Foreign Affairs, the Hon Julie Bishop MP, today announced that applications are now open for a new Australia-ASEAN Council program to create substantial links between social entrepreneurs across ASEAN and Australia. Read more…
Australia takes strong action against exploitation of foreign workers
16 November 2016: The exploitation of migrant workers in Australia is both illegal and unacceptable. The Australian Government is taking strong action to eliminate organised criminal networks and unscrupulous employers and agents seeking to profit from exploiting vulnerable migrant workers. This action includes the establishment of Taskforce Cadena in 2015 and the Migrant Workers Taskforce in 2016. Read more...
Australian Indigenous Fashion & Art Premier in Malaysia
9 November 2016: The Australian High Commission is delighted to support the launch of 'Bringing Australia to the World', in Kuala Lumpur - an Indigenous Australian Fashion and Art extravaganza which showcases the rich culture of Australia's first people, as well as the strong people-to-people and trade links between Australia and Malaysia. Read more...
How to be a Smartraveller when travelling overseas
19 October 2016: Eight per cent of Australian adults travelled without travel insurance on their last overseas trip according to a survey commissioned by the Australian Government and the Insurance Council of Australia – that is 850,000 visits by Australians overseas without insurance. Read more...
World Day Against The Death Penalty
10 October 2016: The Australian Government reaffirms its opposition to capital punishment on World Day Against the Death Penalty. Read more...

For more news, please go to the news archive page.

Australians residing abroad for extended periods are encouraged to register with the Department of Foreign Affairs and Trade.
• Travel advice to Malaysia
• General travel advice
• Consular services charter
• Authentications and apostilles
• Taxation

Education Enquiries
For futher information on studying and living in Australia, please visit the Australian Government website, www.studyinaustralia.gov.au. This website provides information on Australian institutions, courses, scholarships, application process, visa requirements and more. For enquiries, please email Malaysia@StudyInAustralia.gov.au.
Distinguished Alumni
The High Commission values the contribution the alumni of all Australian universities bring and endeavours to cultivate stronger and closer links through building and maintaining alumni relations as an important aspect of bilateral education ties between Australia and Malaysia.
We are constantly updating our distinguished alumni database. For more information and registration for future alumni events, please email public-affairs-klpr@dfat.gov.au.