Prestigious Australian scholarships awarded to high-achieving Malaysians
Nine Malaysian scholars and professionals have recently been awarded scholarships to study in Australia under the prestigious 2014 Australia Endeavour Awards program.
Recipients will pursue postgraduate studies and professional development opportunities across a broad range of disciplines at Australia's premier universities and research institutions.
They recently received their award certificates from Australian High Commissioner-designate to Malaysia, Mr Rod Smith PSM, at a ceremony at the Australian High Commission in Kuala Lumpur.
The Australia Endeavour scholarships and fellowships are part of the Australian Government's prestigious Australia Awards program, an international scheme designed to facilitate links between Australia and its neighbours.
Since 2007, a total of 2,840 Endeavour Scholarships and Fellowships have been awarded to international applicants. The Awards also provide opportunities for Australians to study abroad.
In 2014, these scholarships will provide 476 international recipients with an opportunity to study in Australia and around 150 Australians to travel and further their skills and knowledge overseas.
This year's Malaysian recipients are:

Endeavour Postgraduate Awards

| | |
| --- | --- |
| Ms June Mabel Joseph | Ms Joseph's PhD research at the University of Queensland will involve improving access to infant breastfeeding in a disadvantaged community in Brisbane, Australia. |
| Mr Lo Ki Jun | In his Masters of Architecture studies at RMIT University, Mr Lo will look at how effective design can influence the amenity and affordability of public housing. |
| Mr Lee Jia Kee | Mr Lee will undertake a Masters of Finance at the University of Melbourne, where his study will deepen his knowledge and understanding of multicultural business practice. |
| Mr Surendran Subramaniam | His PhD research at Queensland University of Technology will centre on a current legal issue which is affecting trademark laws on a global scale. |
Endeavour Research Fellowships

| | |
| --- | --- |
| Ms Catherine Chang Ching Han | Ms Chang is working towards her PhD in Bioinformatics and hopes that the research she conducts at Monash University in Australia will assist the growth of computational and bioinformatics tools research here in Malaysia on her return. |
| Ms Sarega Nadarajan | In her research at the University of Melbourne, Ms Nadarajan will investigate the functionality of High Density Lipoprotein (HDL, good cholesterol) in indigenous populations of Malaysia. |
| Ms Saraswathy Venkataraman | She is an occupational therapist who plans to undertake a comparative analysis of residential aged care and injury prevention, and this important research will help to make a real difference to the care of older people in Malaysia. Her research will be based at Monash University. |
| Dr Muhd Nazrul Hisham Zainal Alam | His research is focused on developing integrated micropumps and microvalves for LabChip platforms. |
Endeavour Executive Award

| | |
| --- | --- |
| Ms Li San Kong | In Australia, Ms Kong will understudy research management with the Director of the Research Office at Macquarie University and participate in the Australasian Research Management Society conference. |

In addition to the Malaysian recipients, two Indian nationals were awarded the Endeavour Research fellowship and participated in the award ceremony. Dr Nagasundara Ramanan Ramakrishnan and Ms Ramalakshmi Subbarayalu, currently working and studying at Monash University Malaysia, will travel to Australia to undertake research studies at Monash University and University of Adelaide respectively.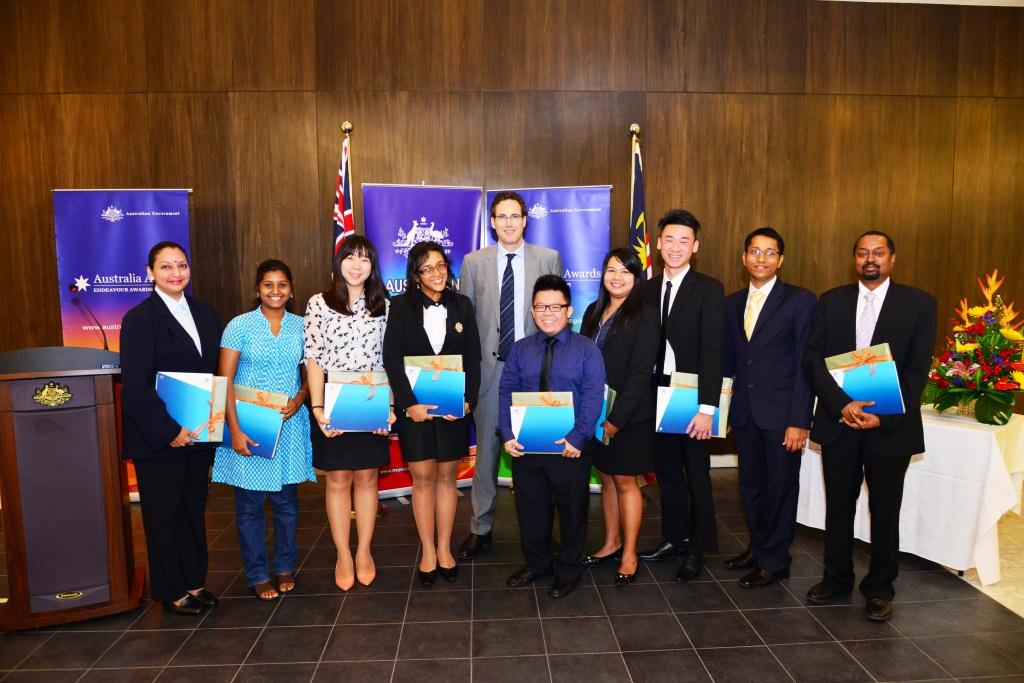 Australian High Commissioner-designate to Malaysia, Mr Rod Smith PSM (in grey suit), together with the recipients of the prestigious 2014 Australia Endeavour Awards program.