Flavours of Australia off to a delicious start!
MasterChef Australia Season Two winner Adam Liaw whets the appetite of guests at an exclusive dinner event in Kuala Lumpur on 30 May to unveil the Flavours of Australia festival.
Chef Liaw, who presented a special menu he developed specially for the event, was invited to Malaysia as the guest chef. The Malaysian heritage of Chef Liaw reflected the strong people-to-people links with Australia and made him the perfect person to promote the food festival.
"It always feels like home each time I visit Malaysia and I enjoy my stay here a lot. I am delighted to be back again and I hope to share some of my culinary skills with my local fans," he said at the launch.
The launch dinner was held at DoubleTree by Hilton Hotel Kuala Lumpur and attended by 100 guests of the Australian High Commission and the Australian Trade Commission (Austrade).
The Australian High Commissioner, H.E. Mr Miles Kupa, hosted the dinner, which provided a preview for the month-long Flavours of Australia festival beginning 1 June.
Flavours of Australia comes at a time when eating out is on the rise in Malaysia and diners are increasingly aware of culinary standards and talent.
Mr Kupa said the festival program was designed to highlight what Australia can provide to Malaysia's growing food and beverage industry.
"Malaysians are already familiar with Australia's delicious and wide variety of produce, especially its fruit, meat, dairy products and wine.
"During Flavours of Australia, we also want to emphasise its high standards of safety and quality.
"Thanks to the Malaysia-Australia Free Trade Agreement (MAFTA), which came into force on 1 January this year, Malaysian importers can now source more Australian produce for the local consumer," Mr Kupa said.
Throughout the month-long festival, Australian produce will be featured in Australian-themed menus at participating restaurants. Diners will be able to savour the diversity of Australian food from appetisers to main courses and desserts, complemented by well-known Australian wines.
Other highlights during Flavours of Australia:
Diner contest – Restaurants throughout Kuala Lumpur will showcase a wide variety of Australian produce and ingredients during the festival. The contest will reward diners for their patronage at participating restaurants. To participate in the contest, diners will need to complete an entry form attached with a receipt as proof of purchase, earning the chance to win a trip to attend an Australian Food and Wine Festival.
Restaurant challenge – Participating restaurants will be eligible to compete for prizes, based on their creativity with Australian produce and ingredients. The restaurant challenge will also encourage service staff to learn about and promote items used on the menu and recommend wine pairings. The top three highest grossing Flavours of Australia promotional menu restaurants will be rewarded with non-cash prizes including wine chillers and wine service training.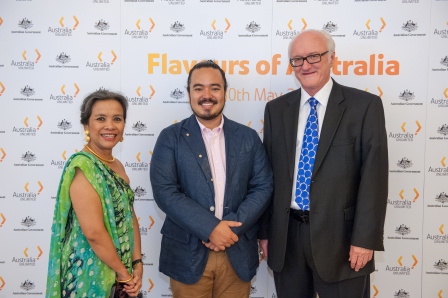 The Australian High Commissioner, H.E. Mr Miles Kupa (right) and his wife, Ms Zuly Chudori (left) welcome Chef Adam Liaw at the commencement of the Flavours of Australia launch dinner on 30 May 2013.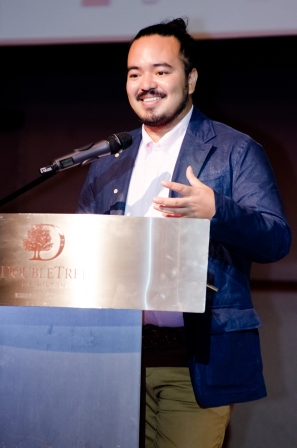 Chef Adam Liaw speaks to guests about the inspiration behind his menu for the Flavours of Australia launch dinner.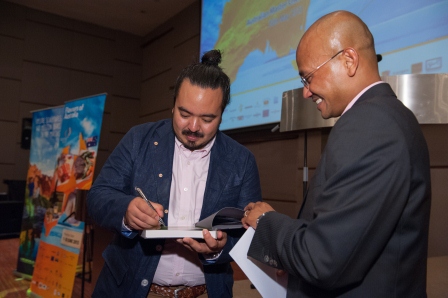 Chef Adam Liaw signs a copy of his cookbook, Two Asian Kitchens, for Chief Executive Officer of AirAsia X, Mr Azran Osman-Rani (right).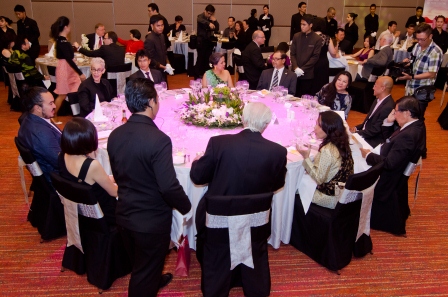 Guests on the VIP table enjoying the Flavours of Australia launch evening.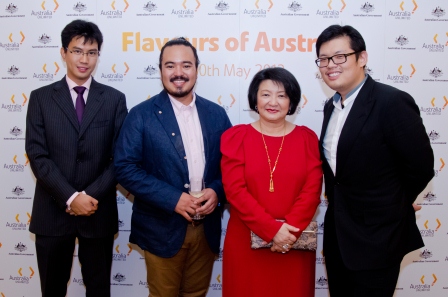 Chef Adam Liaw meets dinner guests YAM Tunku Zain al-'Abidin ibni Tuanku Muhriz (left), Executive Director of YTL Corporation Berhad, YBhg Dato Yeoh Soo Min (second from right) and her son.
The Australian High Commissioner, H.E. Mr Miles Kupa (right), his wife, Ms Zuly Chudori (second from right), Deputy High Commissioner Mrs Jane Duke (left), staff of the Australian High Commission and guests with Chef Adam Liaw.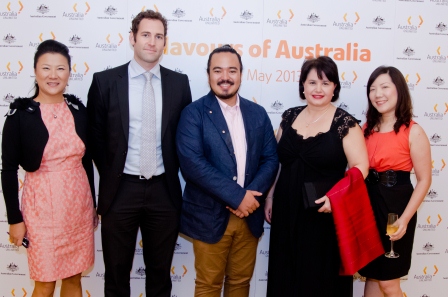 Senior Trade and Investment Commissioner, Ms Susan Kahwati (second from right) and Austrade staff with Chef Adam Liaw.