Australian and Malaysian education partnerships strengthened on the back of the MAFTA signing
Twenty-one Vice-Chancellors, Deputy Vice-Chancellors, senior academics and researchers from Australia's leading Innovative Research Universities (IRU) are undertaking a five-day visit program in Malaysia from 11th to 15th June 2012. "The Australian and Malaysian Governments have identified education, research and innovation as critical components of our nations' development. We welcome this visit by IRU as a unique opportunity to strengthen existing research linkages between Australia and Malaysia's Research Universities and to boost our bilateral cooperation in priority fields such as global warming, infectious diseases, tropical medicine, water and energy security," said Ms Elodie Journet, Australian Senior Trade and Investment Commissioner to Malaysia and Brunei.
Professor Ian O'Connor, IRU Chair and Vice Chancellor of Griffith University also commented that: "Research is international. No country can rely solely on what its own researchers discover. To access the international world of research effectively both Australia and Malaysia need their researchers to work with each other, testing their research to improve outcomes."
The highlight of the five-day program is the Australia-Malaysia Research and Innovation Forum co-hosted by the Australian High Commission and the Malaysian Ministry of Higher Education held today at the Australian High Commission. Attended by over 90 Vice-Chancellors, Deputy Vice-Chancellors of Research and Innovation, senior ministry officers and researchers from Malaysia's public and private institutions of higher learning, the forum focussed on the current trends and approaches to research and key elements of interest within research communities, and its relation to nations across the globe.
Mrs Jane Duke, Acting High Commissioner in her official address said: "The Australia-Malaysia bilateral relationship is warm, long-standing and substantive. It is growing from strength-to-strength across a variety of critical areas such as education, defence and security, combating people-smuggling, counter-terrorism, foreign policy and trade and investment. This relationship was only strengthened in recent times by the signing on 22nd May of the Malaysia-Australia Free Trade Agreement (MAFTA)." The improved market access conditions gained under MAFTA will further boost trade and investment flows in a number of sectors, including education.
The visit program also comprises meetings and site visits to the five Malaysian public research universities and the Iskandar Education City. Four Memorandum of Understandings (MoU) will also be signed between Griffith University and Malaysian Research Universities during that time.
The IRU comprises Charles Darwin University, Flinders University, Griffith University, James Cook University, La Trobe University, Murdoch University and the University of Newcastle. IRU universities are research-intensive institutions with international reputation and world leading expertise in their specialist fields. IRU members place a particular focus on interdisciplinary and cross disciplinary research. Five of the seven IRU member universities are among the top 500 research universities in the world and all members are listed on at least one of the major world university rankings. More information at www.iru.edu.au or www.studyinaustralia.gov.au.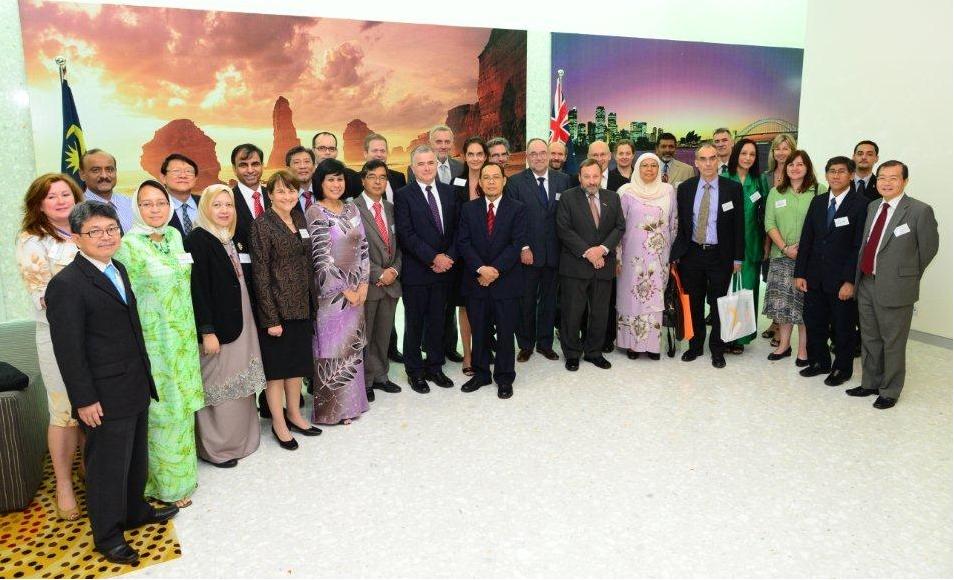 Professor Ian O'Connor, IRU Chair/Vice Chancellor and President of Griffith University (7th from left, front), Ms Elodie Journet, Senior Trade and Investment Commissioner of Australian Trade Commission (left of Professor O'Connor), Professor Morshidi Sirat, Deputy Director-General of Ministry of High Education Malaysia (front of Ms Journet) with Australian IRU delegates, Malaysian Vice-Chancellors, researchers and academics at the Australia-Malaysia Research & Innovation Forum held on 12 June 2012 at the Australian High Commission, Kuala Lumpur.