The Australian High Commission commemorates Sandakan Day in Sabah on 15 August
Sandakan Day, held annually on 15 August, commemorates the Australian and British soldiers who were held as prisoners of war at Sandakan from 1942 to 1945. Over 2,000 soldiers were imprisoned at Sandakan, and only six prisoners – all Australians – escaped and survived.
Sandakan Day also marks the sacrifice of the local people of Sabah, many of whom risked and received terrible punishment to help the prisoners of war.
The 2012 Sandakan Day commemoration ceremony, held at the Sandakan Memorial Park, was attended by veterans' relatives, local community groups, and local and foreign dignitaries. Official guests included the Australian Deputy High Commissioner to Malaysia, Mrs Jane Duke; Sabah State Assistant Minister of Tourism, Culture and Environment, YB Datuk Ellron Alfred Angin; the President of the Sandakan Municipal Council, Datuk Ir James Wong; and the British High Commissioner to Malaysia, HE Mr Simon Featherstone.
Mrs Duke gave an address (attached) commemorating the events at Sandakan saying, "the bond that was formed by ordinary people from Australia and Sabah, during those extraordinary times, makes Sandakan a sacred land for us. As Australians, we will always come home to Sandakan, just as Sandakan will forever remain home to so many Australian soldiers, who now rest here, having paid the ultimate price for its freedom".
Mrs Duke and the Australian Defence Adviser, Captain Geoffrey Uren, also laid wreaths during the ceremony.
The Australian High Commission extends its thanks to the Sandakan Municipal Council for arranging the 2012 Sandakan Day commemoration.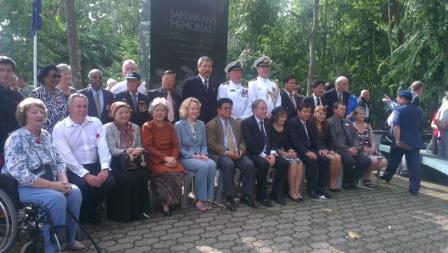 Official guests at the 2012 Sandakan Day commemoration.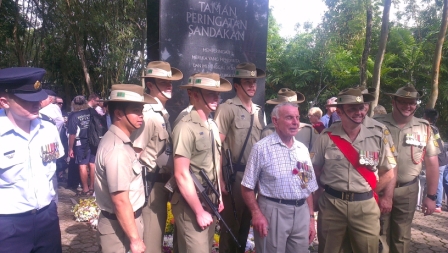 Members of the catafalque party with Australian veterans at the 2012 Sandakan Day commemoration.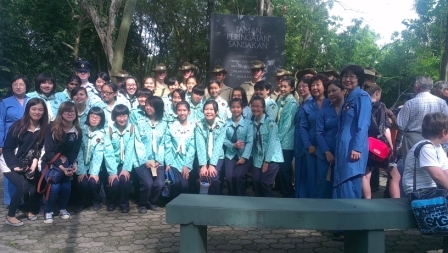 Members of the Girl Guides Association of Malaysia with the catafalque party at the 2012 Sandakan Day commemoration.