Malaysia offers Australian students unique insights and experiences
A record number of university students from Australia are travelling to Malaysia to further their studies, according to Australian High Commissioner to Malaysia, H.E. Mr Miles Kupa.
In July alone, there are more than 160 students from Australian universities in Malaysia as part of their university studies for their Australian degree. From law, business to education studies, Malaysia is an attractive study destination.
Students are undertaking courses at local universities in law and business, studying Malaysian companies, completing public relations assignments and even teaching in Malaysian schools.
Ms Jemma Smalley-Roberts, a pre-service teacher studying Graduate Diploma (Primary) at RMIT Bundoora in Victoria, valued every minute of this Malaysian experience. Ms Smalley-Roberts had the opportunity to teach at Sekolah Kebangsaan (SK – primary school) Methodist Tanjong Malim, Perak.
"At SK Methodist, I was greeted with such a warm welcome by all students and teachers. I was treated like a rock star with students requesting autographs and excitedly awaiting to see if I would be teaching their class. It was a heart-warming experience to be able to teach the students at the school new lessons such as body percussion in music and hockey in physical education, which in Australia would be an everyday lesson, but here it is something very new.
"All of my mentors guided me to understand the rubbings of the school and the Malaysian curriculum. Many breaks were spent speaking about and comparing the Australian education system with the Malaysian education system, and how both could be made better so our young are better equipped for the future. I think this experience has made me a better teacher and learner, and the personal friendships with Malaysians really help us to understand this amazing region," she said.
These sentiments are echoed by Mr Christopher Bush, a pre-service teacher from Monash University, Melbourne, placed at Sekolah Menengah Kebangsaan (SMK – middle school) Methodist Boys' School in Kuala Lumpur.
"Learning about Malaysia and other Asian cultures through my immersion in their school system is a unique and enlightening experience. I have gained a great deal of confidence in my professional abilities as a teacher as I am allowed greater autonomy in my teaching than I would be in Australia. It is fantastic to work with young minds that are eager to learn and practise their exceptional English skills," he said.
With the recent release of the Australia in the Asia Century White Paper, Mr Kupa said the Australian Government had committed AUS$37 million to support Australian students to study in Asia.
"Many Malaysian education institutions are already well engaged with Australian universities and we expect to see the annual number of students from Australia to Malaysia to grow into the thousands," he added.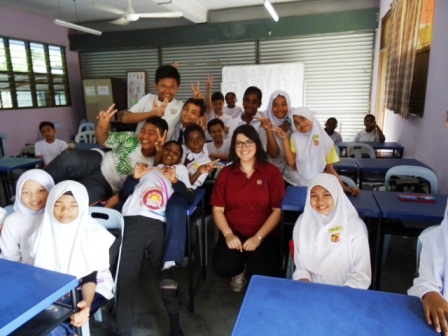 Ms Jemma Smalley-Roberts (in red t-shirt) surrounded by some of her students at Sekolah Kebangsaan Methodist Tanjong Malim, Perak.