| | | |
| --- | --- | --- |
| | | |
| | | |
| | | |

Online ETA Application not Approved
If your online ETA application was not approved, follow the instructions here.
Some ETAs cannot be approved over the internet due to checks required by the Australian Government. If your application for an ETA was lodged online or through a travel agent, and has not been approved, you will need to provide further information by email. Please do not approach the High Commission in person.
Australian visa scams
The Department of Home Affairs warns people to be very cautious regarding claims that Australian visas are allegedly for sale. These claims are not true. Australian visas are not for sale. Visas can only be obtained through official channels. Read more...
Smartraveller - Updated website
Smartraveller has the latest, authoritative travel advice so you can be informed and prepared about overseas travel. Subscribe to receive travel advice updates - by simply supplying your name and email address – straight to your inbox.
You can now also subscribe to the new SMS service - by supplying your mobile number – to receive critical alerts in the event of a crisis overseas.
In a crisis, Smartraveller will activate a crisis page on its website. It will make it easier for you or someone you know to contact the Australian Government if you need help. It will supplement the consular emergency hotline.
Visit www.smartraveller.gov.au to subscribe or connect with Smartraveller on Facebook and Twitter.
Tobacco import law
The Australian Government is stepping up the fight against illicit tobacco, with the commencement of new laws that protect Australia's borders from the importation of smuggled tobacco products.
From 1 July 2019, it is illegal for anyone to import tobacco without permission, or in contravention of permit conditions. The Australian Border Force has new enforcement options to seize tobacco and infringe tobacco smugglers. If you import tobacco without a permit or in breach of a permit condition, your tobacco may be destroyed and you may face financial penalties or prosecution.
Travellers arriving in Australia can continue to bring tobacco with them without a permit, but must always declare tobacco above the duty free allowance and pay any relevant duties and taxes. It is important for travellers to be aware of the customs requirements that apply to them when travelling to Australia. If in doubt, travellers should always declare any tobacco they are bringing with them.
Further information on the new measures is available at the Australian Border Force website
60 years of Australia's diplomatic presence in Malaysia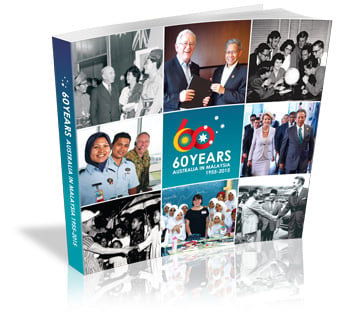 The Australian High Commission's special publication commemorating 60 years of Australia's diplomatic presence in Malaysia is available online. The commemorative book was launched by the Prime Ministers of Australia and Malaysia on 22 November 2015. It captures the long-standing and substantial cooperation between our two countries across many fields including defence, education, business, the arts and sports. It includes a number of personal stories of Malaysians and Australians who have made key contributions to building our close ties.
Job Vacancies
No Current Vacancies

Australia signs new screen agreement with Malaysia
29 November 2019: The Morrison Government has entered into a new agreement with Malaysia that will boost the film and television production industries in both countries. Read more...
2020 NEW COLOMBO PLAN MALAYSIA MOBILITY GRANTS
8 November 2019: The Australian Government is pleased to announce that 466 Australian university students will undertake short-term study and work-based experiences in Malaysia as part of the 2020 New Colombo Plan Mobility Program. Read more...
Malaysia-Australia Joint Statement on Defence Cooperation
25 September 2019: Australian Minister for Defence Linda Reynolds, and Malaysian Minister of Defence Mohamad bin Sabu, held the second Malaysia-Australia High Level Committee in Canberra, Australia, on 25 September 2019. The meeting's wide ranging and open discussion reflected the strength and breadth of the relationship, and the spirit of friendship and shared interest in addressing the region's security challenges. Read more...
Australia-Malaysia Trade Ministers' Meeting
20 August 2019: Joint statement from Minister for Trade, Tourism and Investment, Senator the Hon Simon Birmingham and Malaysian Minister for International Trade and Industry, YB Datuk Darell Leiking on the Australia-Malaysia Trade Ministers' Meeting on 20 August. Read more...
Australian Endeavour Leadership Program Awards 2019
26 July 2019: Three Malaysian researchers emerged as winners of the prestigious Endeavour Leadership Program Awards funded by the Australian Government in 2019. Read more...
Prime Minister Morrison's Asialink Bloomberg address "Where We Live"
The Indo-Pacific – where else would Australia want to be? Prime Minister Morrison's Asialink Bloomberg address "Where We Live" about Australia's guiding principles for engagement with the region. Read more...
Press Statement - High Commissioner's Response to YB Wong Tack
10 June 2019: High Commissioner's statement in response to Press Statement regarding Lynas. Read more...
Lynas Malaysia Licence Renewal
30 May 2019: High Commissioner's statement on Lynas Malaysia licence renewal. Read more...
Australian Democracy in Action - Federal Election Day event
18 May 2019: On Saturday 18 May, the day of the Australian Federal Election, the Australian High Commission opened its doors for a special briefing to a delegation from the Malaysian Government, public servants and members of the media. This was an opportunity for participants to learn more about the role of Australia's diplomatic network in supporting overseas voting for Australians. Read more...
Australian High Commissioner's speech at Curtin University 2019 graduation ceremony, Miri, Sarawak
27 April 2019: Australian High Commissioner to Malaysia, HE Andrew Goledzinowski's speech at Curtin University 2019 graduation ceremony in Miri, Sarawak on 27 April 2019. Read more...
Ramadhan Message from the Prime Minister Scott Morrison
6 May 2019: "During the holy month of Ramadan, Muslims across Australia and the world observe sacred traditions commemorating the miraculous revelation of the Qur'an. For the Muslim community, it is a time for prayer and fasting, and for reflection and intense devotion." Read more…
Malaysia and Australia co-host a gender policy dialogue on 2 May 2019
2 May 2019: To promote gender equality and women's empowerment, Malaysia and Australia co-hosted a gender policy dialogue on 2 May. As Deputy Prime Minister Dato' Seri Dr Wan Azizah Wan Ismail said when she announced the dialogue in August 2018, gender is a key priority for both Malaysia and Australia. The initiative was an opportunity to bring together Malaysian and Australian experts, to exchange perspectives and experiences on how to promote gender equality. Read more...
The Australian High Commission marks its annual Harmony Day celebration with Minister YB Waytha Moorthy
21 March 2019: The Australian High Commission Kuala Lumpur was honoured to share its annual Harmony Day celebration with the Minister of National Unity and Social Well-being, YB P. Waytha Moorthy on 21 March 2019. Harmony Day celebrates inclusiveness, respect and a sense of belonging for everyone. Read more...
International Women's Day at the Australian High Commission with YB Nurul Izzah Anwar
1 March 2019: The Australian High Commission KL kicked off early celebrations for International Women's Day with its annual signature reception, including YB Nurul Izzah Anwar as the guest of honour and keynote speaker. The reception brought together high-level guests from across the Malaysian Government, legal fraternity, diplomatic and business communities, and civil society. Read more...
Homecoming trip for 2017 Masterchef Australia champ, Diana Chan
22 February 2019: Malaysian born Diana Chan, who won the MasterChef Australia Season 9 in 2017 made a homecoming to Malaysia from 18 to 21 February 2019, as part of the public diplomacy program by the Australian High Commission KL. Read more...
Australia's top mathematics educator wows students in Petrosains
15 January 2019: Eddie Woo has been described as "the coolest maths teacher ever". Australia's most famous mathematics educator is living proof that learning – and teaching – maths can be fun. Read more...

For more news, please go to the news archive page.

Education Enquiries
For futher information on studying and living in Australia, please visit the Australian Government website, www.studyinaustralia.gov.au. This website provides information on Australian institutions, courses, scholarships, application process, visa requirements and more. For enquiries, please email Malaysia@StudyInAustralia.gov.au.
Distinguished Alumni
The High Commission values the contribution the alumni of all Australian universities bring and endeavours to cultivate stronger and closer links through building and maintaining alumni relations as an important aspect of bilateral education ties between Australia and Malaysia.
We are constantly updating our distinguished alumni database. For more information and registration for future alumni events, please email public-affairs-klpr@dfat.gov.au.